Ruff-pack and community:
Now in its seventh year, Woof Camp 2014 -- the annual pup and Handler party held at International Mr. Leather in Chicago, IL -- was a smashing success with the highest attendance of pups/dogs/wolves and Handlers/Trainers to date!
The pup and Handler party was held on Sunday, May 25th from 7pm-10pm after being rescheduled from the original Saturday, May 24th date and time. Working with IML Staff and SquarePeg Toys, we were able to relocate to a room with twice the space from the previous year. This allowed us to dispense with the cumbersome and problematic "ticket entry" system as well as open up the mosh to the IML attendees so everyone could come and join in on the fun once again.
A new feature this year was the introduction "Happy Puppy Yoga" which was held 30 minutes prior to moshing at Woof Camp. Led by yoga instructor pup Snuggles, this helped the pups stretch and limber up before the main event.
There was a continual flow of people and pups throughout the three-hour mosh, as over 180 human-canines and 65 Handlers/Trainers enjoyed pupping out, while hundreds of IML attendees looked on from the sidelines. While supplies lasted, pups and Handlers received a free commemorative enamel pin in the shape of a dog dish with the words "Woof Camp" on the front, a bone sticking out of the dish and a red ball next to it.

Woof Camp 2014 offered both Active and Quiet areas, multiple water stations, and storage tables for gear/clothes/boots. Our volunteer photographer, pup Cockpit, snapped free Pet Portraits (utilized by more than 47 people), and the group photos at 9:00pm were taken by official Woof Camp photographer Bryan S. and pup Cockpit. Thanks to those pups and Handlers who were there for the group photo. In addition to photography, medical services were also available. Jeffery B. (and his friend Paul) provided medical assistance several times as the canine energy was at times "overflowing."
| | |
| --- | --- |
| The theme this year was "Return of the Villains" and our "surprise guest" was none other then Carlos DeVil (Cruella De Vil's brother separated at birth). Carlos brought several zombie letter carriers who attempetd to deliver "Bad Dog" City of Chicago citations and tried to capture unsuspecting pups from which to make a new fur coat. The zombie letter carriers were defeated and the pups brought down Carlos DeVil as he tried to escape! The Dog Catcher also made several appearances throughout the night but the pups prevailed over him as well. | |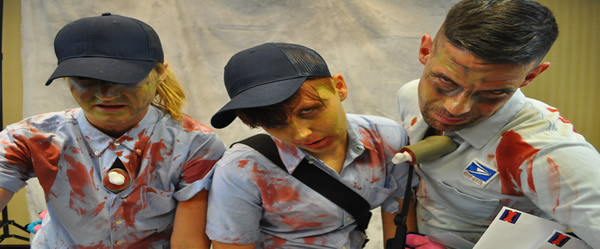 Later in the evening IML attendees enjoyed watching the pups tear into the six zombie head piñatas, with the added surprise of each one containing zombie foot squeak toys by GamaGo and miniature multicolored stuffed zombie bears for the pups to keep.
Other new surprises and items this year included: two magnetic flashing LED road flares the pups went crazy chasing; an orange/yellow paw necktie bandana to help identify new/shy/first time/unowned pups who desired interaction from the volunteer Woof Camp Handlers; a "No boots/hard soled shoe" mosh pit policy as well as bringing back the red laser dot.
To see photos of what occurred at this year's Woof Camp 2014 visit the "Prior Woof Camps" page.
I would like to express my appreciation and deep gratitude to everyone who took the time to attend Woof Camp 2014 and acknowledge the many thank you cards that I received at the event. However, ultimately it is a group of volunteers who make this event possible, and to them I want to especially bark out a huge "Thank You"!
| | |
| --- | --- |
| | First and foremost is Scott Douglas of SquarePeg Toys (maker of the original silicone puppy tails). Without his ongoing financial support, background assistance, helpful advice/input/encouragement, and his support of the pup and Handler community in general, Woof Camp would not be the "free entrance" and successful party that it has been for the past seven years. Please make sure to email and say thank you or, better yet, shop from his wide selection of erotic silicone toys and support his business at SquarePegToys.com. |
As always, this event would not have occurred without the pups/dogs/wolves and Handlers/Trainers who came forward and pitched in to make the event happen. "Thank You" for giving of yourselves, your time, and your "can do" attitude and energy; I am humbled by your dedication and extremely grateful.
The following are those who deserve howls and a-paws [in alphabetical order] for helping with Woof Camp 2014:
Angie H. (Zombie Letter Carrier)
Boy Scooter (Dog Catcher)
Bryan S. (Woof Camp photographer)
Chase P. (Carlos DeVil cloak and orange & yellow paw bandana designer)
Chris S. (Orange fencing storage and delivery, Set-Up, Front Door Security 7-8pm, Handler, Pet Portrait props)
Daddy Don (Set-up, Woof Camp Handler, Tear-down)
Daddy Rose (Set-up, Woof Camp Handler, Tear-down)
Dave R. (Set-up)
Dillon H. (Woof Camp Handler)
Esteban C. (Front Door Security 8-9pm)
Forrest T. (Set-up, Woof Camp Handler, Tear-down)
Handler Gus (Woof Camp Handler)
J.C. (Set-up, Side Door Security)
Jack G. (Woof Camp Handler)
Jason S. (Set-up, Woof Camp Handler)
Jeffrey B. (Event medical assistant)
Jerry (Woof Camp Handler)
Keith P. (Set-up, Woof Camp Handler, Zombie Letter Carrier, Tear-down)
Kraig B. (Front Door Security 7-8pm) Linc T. (Set-up)
Master Tom (Set-up) Nuck (Woof Camp Handler)
Pug (Set-up) Pup Az (Front Door Security 8-9pm)
Pup Bandit (Orange fencing storage and delivery, Set-Up, Front Door Security 7-8pm)
Pup Bolt (Set-up)
Pup Chomper (Set-up, Side Door Security)
Pup Cockpit (Woof Camp website programmer, Set-up, Pet Portrait photographer, Woof Camp event photographer, Tear-down, Personal Assistant to Brue)
Pup Hunter (Front Door Security 8-9pm)
Pup Mohawk (Set-up, Tear-down)
Pup Rylee (Set-up, Tear-down)
Pup Snuggles (Happy Puppy Yoga instructor)
Pup Spot (Woof Camp Handler, Tear-Down)
Pup Storm (Front Door Security 8-9pm)
Pup Striker (Set-up, Tear-down)
Pup Studpup (Set-up)
Pup Trip (Front Door Security 7-8pm)
Pup Tugger (Set-up)
Pup Zeus (Set-up)
Rocko P. (Set-up)
Sara vR. (Zombie Letter Carrier)
Sir Loki (Woof Camp Handler)
Solomon H. (Set-up, Woof Camp Handler)
Tom O. (Set-up, Tear-down)
Travis W. (Carlos DeVil)
Wolf F. (Woof Camp website programmer, Personal Assistant to Brue)
Zachary G. (Set-Up, Pet Portrait photographer assistant, Woof Camp Handler, Tear-down)
(I apologize in advance to anyone who I may have inadvertently overlooked, and if you notice someone missing, please do let me know.)
I look forward to seeing everyone at the next Woof Camp event!
~Brue
Woof Camp 2014 Producer
(tired happy wags)